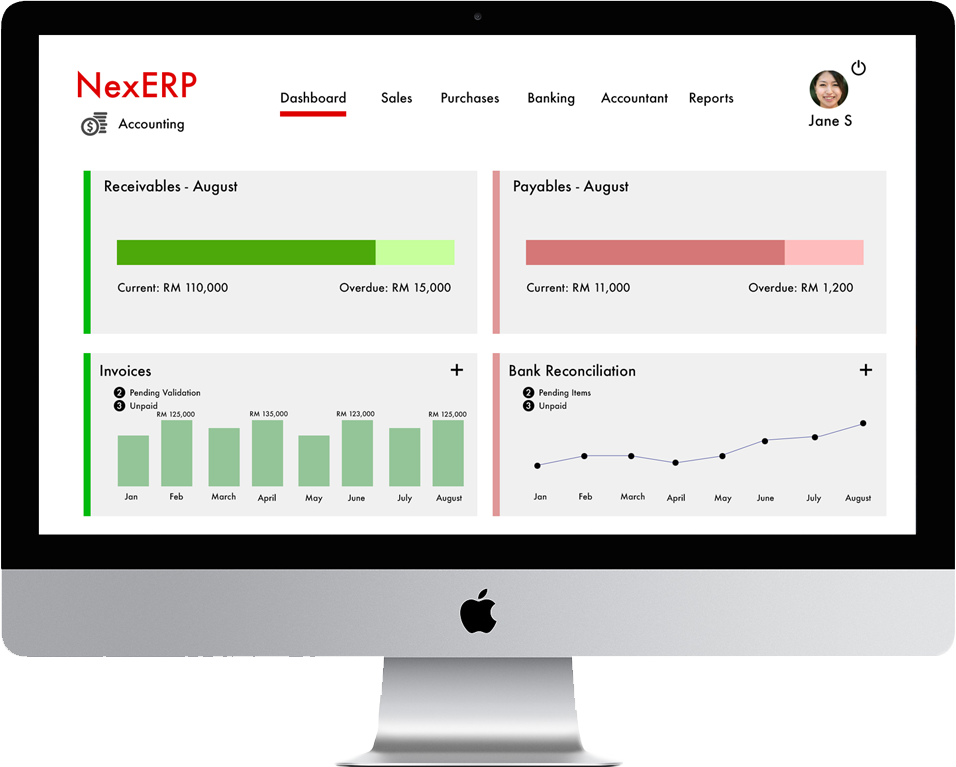 What is Enterprise Resource Planning (ERP) ?

What Is Enterprise Resource Planning Software ?
ERP or Enterprise Resource Planning is a system that brings together many aspects of your business operation such as Finance, Accounting, HR, Marketing, Procurement etc. and allows them to talk to each other. By sharing the data across your organization, you'll eliminate duplicate data thus improving data integrity. The aim of an ERP is to increase productivity and reduce cost. This is achieved by making your company more efficient as you'll get maximum visibility about your operations.


What Are The Benefits Of An ERP System ?
The main benefit of implementing a ERP in your organization is achieving the "single source of truth". Since your entire organization would be sharing one database, your employees would never need to worry about data that are not updated or is in silo. Since every industry has its own requirements, maximum benefit can be gained when your ERP is customized to integrate your industry specific systems and functions. Here's what Forbes had to say about the use of ERP systems.
Other Benefits of ERP Software Include:
Lower operational costs: Efficiency gained by implementing ERP would reduce the cost of running your business
Get paid faster: Getting paid on-time is important for cashflow. Generate invoices and set up automated invoice reminders.
Greater collaboration: purchase order and contract data can be shared across departments
Win more business: Set up marketing campaigns, generate quotations and watch deals go from prospects to customers faster
Gain business insight: Increase the visibility of your business with a single dashboard giving you a birds eye view of your operations
Easily handle inventory: Get real-time information about your inventory and stock movement
reduction in operating costs for small and medium businesses
An ERP is an important component to achieve business success. Most businesses would start off on the right track by providing excellent solutions and services that their target market needs. During growth stage, operational challenges would pile up thus slowing growth. NexERP solves that by providing you a complete business operation automation system on the cloud that lets you focus on things that matter more – growth.

Will ERP Software add value to your company ?
In the early days, an ERP was primarily used in the manufacturing sector. Since the manufacturing sector was heavily dependent on efficiency in order to be profitable, a centralised system that brings together data from core business process brought about visibility that was never available before. As such, companies were able to make changes and fine tune their processes to make their employees more efficient. However, small to medium businesses were not able to implement ERP as they were too expensive. This is because before the age of internet, systems need to live within a mainframe and maintaining a mainframe infrastructure is extremely challenging.


How Does Cloud Technology Help ERP Systems?
With the shift or ERP going from infrastructure driven to in-premise to now cloud, what was only available to very large organizations before can now be used by small and medium businesses. Every business need to handle employees, marketing, invoicing, purchasing, sell a product or a service and handle money. As such, having a system that manages all these would add great value to any business. Businesses that uses multiple different software to manage their operations would also benefit greatly by having an ERP software.
How Long Will ERP Implementation Take?
Custom ERP With Modules
An ERP that needs to be entirely custom made would take many years to build. As such, the costs associated with such ERP would also be very high.
Hybrid Cloud Customized ERP
A hybrid ERP that serves as a platform that can be customized to your business needs could take between 1-3 months. Customization can be broken down to phases so to have a more agile approach. These types of ERP are most favourable as its cost effective and has the highest chance of a successful implementation.
Cloud ERP Platform
An ERP that works as a cloud platform would take just hours or days to implement. However, some cloud ERP may not suit your business requirements well.
.
NexERP uses the Hybrid Cloud Customized approach. As such, it provides your business with an enterprise grade ERP that helps you manage key business operations. Reduce human errors and inefficiencies with a fully integrated solution. With many manual operations automated, NexERP gives you total control over every aspect of your business.


Ready To Come Meet Us ?
28-01, Level 28,
The Gardens South Tower,
Mid Valley City,
59200 Kuala Lumpur
Phone: +6016 699 9039